Climate protection in your surroundings
The design of your city or community influences your behavior. The greater the offer for climate-friendly practices, the easier it will be for you to design your own lifestyle accordingly. The developed as part of the real laboratory "Urban Office" Climate Protection Card makes good examples and offers that support climate-friendly behavior in the city and surrounding area, visible and offers everyone the possibility to add new or missing in the map still missing offers and examples independently over OpenStreetMap.
Climate balance of an average citizen
The German average citizen currently accounts for about 11-12 tonnes of CO2 equivalents (CO2eq), which would have to drop below one ton of CO2eq by 2050, to achieve the set climate protection goals. These greenhouse gas emissions of an average person can be attributed to housing, mobility, nutrition, allocate other consumption and public emissions, each of which has different proportions: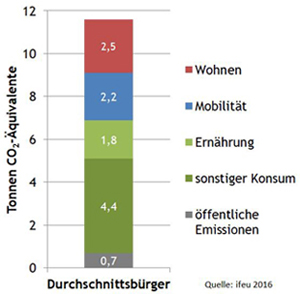 Detailed information on the greenhouse gas balance of the average citizen can be found at: www.uba.co2-rechner.de
Map your surroundings in OpenStreetMap (OSM)
OpenStreetMap (OSM) is a free project that collects, structures and stores freely usable geodata in a database for use by everyone (open Data). This data is under a free license, the Open Database License. The core of the project is therefore an openly accessible database of all contributed geoinformation.
helpful links:
OpenStreetMap (OSM)
OpenStreetMap (OSM) Wiki
Click here for a short tutorial on mapping in OSM
Energy & supply
Central part of the energy transition is the aliteration and addition of infrastructure, hence the required plants and mains for the supply with sustainable generated energy is available area-wide. This applies to both the power and heat supply, the aliteration is in most cases adopted by the local power supplier. By installing own generating plants (e.g. photovoltaics), connecting to a existing local/district heat network or the involvement in energy cooperatives, also you can do something to promote the expansion of renewable energies.
Food & Consumption
Our feeding habit causes approximately 1.8 tons of CO2 per year annually. The major part of the emission origins from animal-derived food like meat, cheese or butter. Apart from that, the rest of consumption is responsible for approximately 4.4 tons of CO2 annually. This includes the purchase of new appliances and cars, just as clothing, shoes and toys. You can save CO2, if you use things as long as possible and consume less.
Mobility & Traffic
By the amount of ways a person travels in Germany annually, an average of 2.2 tons of CO2 per year are released. Air travel and daily car rides are responsible for the major part of this. The switch to environmentally-friendly means of transport can improve your personal carbon footprint significantly.
Living & Construction
For heating and domestic appliances, an average of 2.5 tons CO2 is caused annually per person. The major part is generated by heating, because of the mostly old and inadequately insulated buildings, the dominance of fossil fuels and the increasing living space per person.
Areas of action for CO2 neutral mobility:
walk on foot

Walking on foot is the simplest and oldest way of climate-friendly locomotion. It is especially fun on quiet and green paths

cycle

If you have to go a little faster than walking or if you have to transport a lot, you can get on your bike

using public transport

switch to electromobility

If the car is indispensable, there is the possibility of switching to ecological drives such as electricity. Where you can find charging stations for electric mobility in your city, the map shows you...

car sharing

Many cars in the city centres are standing around all day, taking up space on the street and are rarely driven. It might be worthwhile to get rid of your own car and get into car sharing. This not only saves CO2 because fewer cars have to be produced, but also a lot of money and time! Where there are already car sharing cars in your city, the map shows you...

Designing leisure activities with low CO2 emissions
Measures for CO2 neutral living:
Reduce energy requirements for buildings

The heat emitting surface of a building has a significant influence on its heating energy demand. The surface-to-volume ratio (A/V index) can be calculated in relation to the (heated) interior volume of the building. A low ratio represents a low specific energy requirement per m³ of heated space if all other conditions are kept constant. The map shows these A/V index in the city of Heidelberg, Germany as an example

supply heat/electricity from renewable energy sources

Reduce power consumption
Areas of action for CO2-saving consumption
Seasonal and regional shopping

A large part of the CO2 backpack of a foodstuff is caused by its transport (e. g. from other countries). There are also emissions from heated greenhouses, e. g. when tomatoes are supposed to grow in winter temperatures. If you eat seasonally and regionally, you can save a lot of CO2. Where to buy seasonal and regional in your city, you can find out in the map...

Buy organic foodstuffs

Organic farming is the most sustainable form of land management with a better energy and CO2 balance than conventional farming. The mineral nitrogen fertilizer, which is used in conventional agriculture, requires a lot of energy for production and is therefore associated with high CO2 emissions. In addition, the high fertilisation rate on the arable land in conventional cultivation leads to higher nitrogen surpluses, which lead to even more climate-damaging nitrous oxide emissions.

Vegetarian or vegan nutrition

Avoid food waste

Repairing objects (instead of throwing them away)

buy/use used items
Measures for a CO2-saving supply
Exploiting potentials for renewable energies

Expanding plants for renewable electricity

Expanding plants for renewable heat

Expansion of combined heat and power plants

Expanding grids for the supply of heat from renewable energies

Expanding grids for the supply of electricity from renewable energies

Removing the storage tank for load regulation of the renewable energy sources